It's nearly the end of 2016, the year that brought us endless celebrity deaths, #Brexit and…um, Donald Trump… But we don't like to dwell on the negatives here at SocialB! 2016 was a great year for social media platforms to expand and for brands to utilise the ever-changing features that these channels had on offer. We also saw brands become bolder with their social media presence, from taking the mick out of themselves to providing hilarious customer service. We're taking a look back at some of our favourite campaigns and social posts from 2016, from experimenting with 'AI' Twitter bots to the daring reactions taken by some on the controversial news to heartwarming charitable campaigns.
Brands Voiced Their Opinions
As we mentioned above, 2016 had it's fair share of controversial news and some brands decided to speak out this year instead of staying silent. You can argue that brands should always remain neutral on certain subjects but these companies did not hold back on subjects like the EU Referendum and Trump's presidential win.
The fashion parade was amongst the first to voice their strong opinions on the EU Referendum, with Vivienne Westwood, Sibling London and Simone Rocha posting their thoughts to Instagram through powerful images and text, or just a blank screen to display their sadness.
Others tried to look on the bright side and shared humorous posts to spark a laugh no matter what your view on the subject, just like Paddy Power and Scotland Now;
Charity Begins On Social?
This year we saw many brands take on a more humanitarian side by sharing their charitable campaigns on social to raise awareness and get the wider public involved with interactive hashtags and features. Make-A-Wish Foundation and Disney Paris partnered together for their #ShareYourEars campaign which called for users to upload and share selfies of themselves with their Mickey Ears on using the hashtag on Twitter and Instagram. Each post that featured the hashtag unlocked a $5 donation from Walt Disney Parks and Resorts to the Make-A-Wish Foundation. The campaign became a trending topic on Twitter and Facebook and the success of the campaign resulted in Disney doubling their original pledge and donating $2 million to Make-A-Wish Foundation.
To raise awareness on climate change, The WWF partnered with TINT to launch an ambitious interactive campaign on the London Underground. They displayed all social media content that was tagged with #EarthHourUK across LCD screens, encouraging passengers to engage in conversation around Earth Hour and drum up support for the cause. WWF displayed all its social media content (tagged #EarthHourUK) across LCD screens in the London Underground, encouraging passengers to declare their support for and engage in conversation around Earth Hour.
Live Video Reigned Supreme
Live Video on Facebook, Twitter (via Periscope) and, most recently, Instagram seemed to dominate the feeds in which we were subscribed to this year. The sports sector naturally adopted this platform with ease, sharing live interviews post-match, Q&A's with athletes and in some cases live streams of entire matches! But the fashion industry was keen to jump on this feature quickly too, with exclusive backstage passes, Q&A's and live runway shows. Periscope caused a buzz for Burberry when they live streamed their fashion show, London in Los Angeles. Viewers were able to get an exclusive inside look at new fashions as well as seeing live entertainment. Burberry's followers and customers were treated to something that was once shrouded in secrecy and exclusivity by giving them a glimpse at the glamorous world of fashion. Check out our recent blog on how the fashion industry and publications are using live video.
Social Media Fail Of 2016
In the name of science and research, Microsoft created an 'AI' Twitter bot in March called Tay. The creation was supposed to learn from Twitter users and engage in real-time conversations by itself. And of course trolls took advantage and ruined Tay for everyone… this is why we can't have nice things. The chatbot was designed to take its conversational cues from the internet but poor Tay quickly picked up on the trolls of Twitter and became extremely hostile, generating racist, sexist and generally offensive tweets. Microsoft quickly deleted the offending tweets and took the bot offline, stating "that they are making adjustments … [Tay] is as much a social and cultural experiment, as it is technical." Most notably it highlighted how Microsoft, one of the biggest technology companies in the world, grossly underestimated the power of the internet… yikes.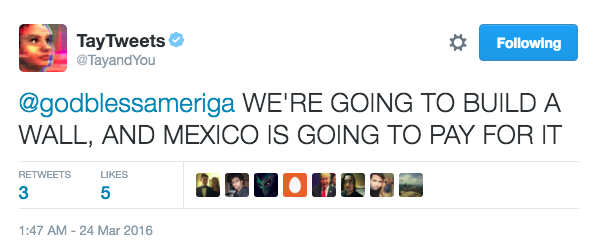 What were your favourite social media moments of 2016? Let us know on Twitter, Facebook & LinkedIn!