The digital marketing world moves fast! To make sure you stay up to date with all of the most important news in the digital world we have collected all of the most important stories and turned them into bitesize news stories for you to digest! Here is the latest news from Google My Business, Google's $5 Billion Fine, Snapchat and more Google news!
Businesses To Be Notified When Google My Business Listings Go Live
Google My Business (GMB) is rolling out a new feature to notify business owners when their local listings go live in Google Maps and Google Search. According to this announcement, "We're in the process [of] launching a new notification that informs you when your business goes live on Google services, like Search and Maps." 
This feature will work only if you have set your user-language preference as "en-US". It won't work for bulk submissions. The user will receive two email notifications. A welcome email when you create a listing and another notification email when your listing is live. This feature is still being rolled out at the time of writing this article.
Google Fined $5 Billion
Google has been fined a record €4.34bn ($5bn; £3.9bn) over Android. The European Commission said that Google had used its mobile operating system (Android) to illegally fix its position in search. Ms Vestager (EU Commissioner for Competition) alleges that there are three ways that Google has acted illegally:
it required Android handset and tablet manufacturers to pre-install the Google Search app and its own web browser Chrome as a condition for allowing them to offer access to its Play app store
it made payments to large manufacturers and mobile network operators that agreed to exclusively pre-install the Google Search app on their devices
it prevented manufacturers from selling any smart devices powered by alternative "forked" versions of Android by threatening to refuse them permission to pre-install its apps
However, Google can easily afford the fine if required – its cash reserves totalled nearly $103bn at the end of March…
Snapchat & Nielsen Partnership Sees Users Targeted Based on Offline Data
Snapchat has extended its deal with the consumer measurement firm: brands advertising on the Snapchat platform will now be able to target customers using Nielsen's offline purchase data.
Nielsen's 'buyer insights' offline data is collected from loyalty cards and credit card data and includes information on age, gender and buying behaviours.
To put it into context, this means that if a Snapchat customer uses their credit card to buy a pair of sunglasses in a real store, advertisers could use this to serve them ads for other summer accessories the next time they log into Snapchat.
Google Tests Location Tab For Hotel Knowledge Panels
In an effort to help customers easily get information that tells to what is around a hotel, Google is testing is location tabs to include sections such as highlights, top sights and get around. This tab will even include what Google calls a "location score", this grades the hotel's location based on its proximity to top sights, airports and public transport. Although this has not yet been rolled out, it may be something Google is testing and will be rolling at some point in the future, as Google is always testing user interfaces and features.
Google Announces Job Search To Come To UK
This week, Google announced that its job search platform initially trialled in the US will be coming to the UK in an effort to "help people find their next job". The success of the US tests launched in April 2017 proved that there is potential for a worldwide adoption as Google rolls the platform out to other countries as well as the UK.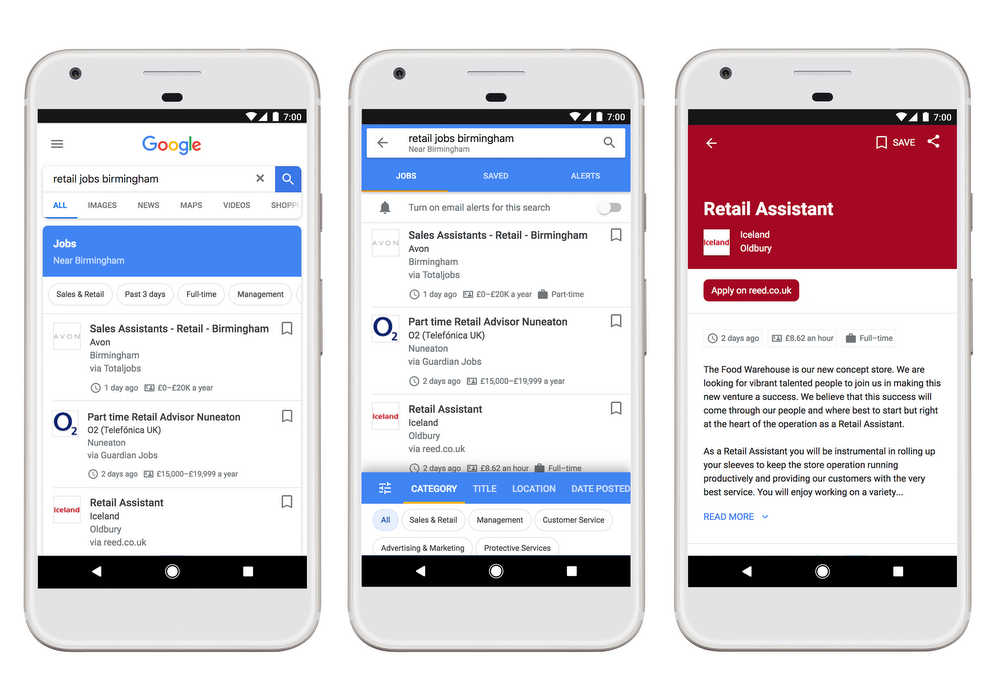 Effective July 2018, Google's Chrome browser will mark non-HTTPS sites as 'not secure'
After years of pushing for 'secure by default' websites, Google will identify insecure sites in the Chrome browser beginning mid-Summer.
July is shaping up to be a big month for Google. Earlier this month, the company announced its Speed Update set to roll out in July, and today announced it will then also mark all sites that have not migrated to HTTPS as "not secure."