Welcome to your weekly roundup of the must-know updates from the world of digital marketing.
Collaboration In The New Google Search Console
Google has announced changes to the new Search Console to facilitate collaboration amongst different users. Some of these changes that will be rolled out in the near future include history tracking to show who performed which significant property-affecting modifications, such as changing a setting, validating an issue or submitting a new sitemap.
As part of our reinvention of Search Console, we have been rethinking the models of facilitating cooperation and accountability for our users. We decided to redesign the product around cooperative team usage and transparency of action history.
New Search Console Features 
User management is now an integral part of Search Console.
The new Search Console enables you to share a read-only view of many reports, including Index coverage, AMP, and Mobile Usability.
A new user management interface that enables all users to see and (if appropriate), manage user roles for all property users.
Google also added a new role definition which limits the "restricted" user role to read-only status. While being able to see all information, read-only users will no longer be able to perform any state-changing actions, including starting a fix validation or sharing an issue.
Google Extends New Responsive Search Ads With An 'Ad Strength' Indication Tool
To help advertisers struggling to discover what responsive ad combinations work best for their business, Google is set to launch a new tool in early September that measures 'Ad Strength' and advises on improvements. Introduced as a way of helping advertisers create more ads by offering a diverse range of tools, responsive ads have opened the doors for more experimentation and testing, and to help aid this process, Google's ad strength tool will measure relevance, quantity and diversity of the ad copy.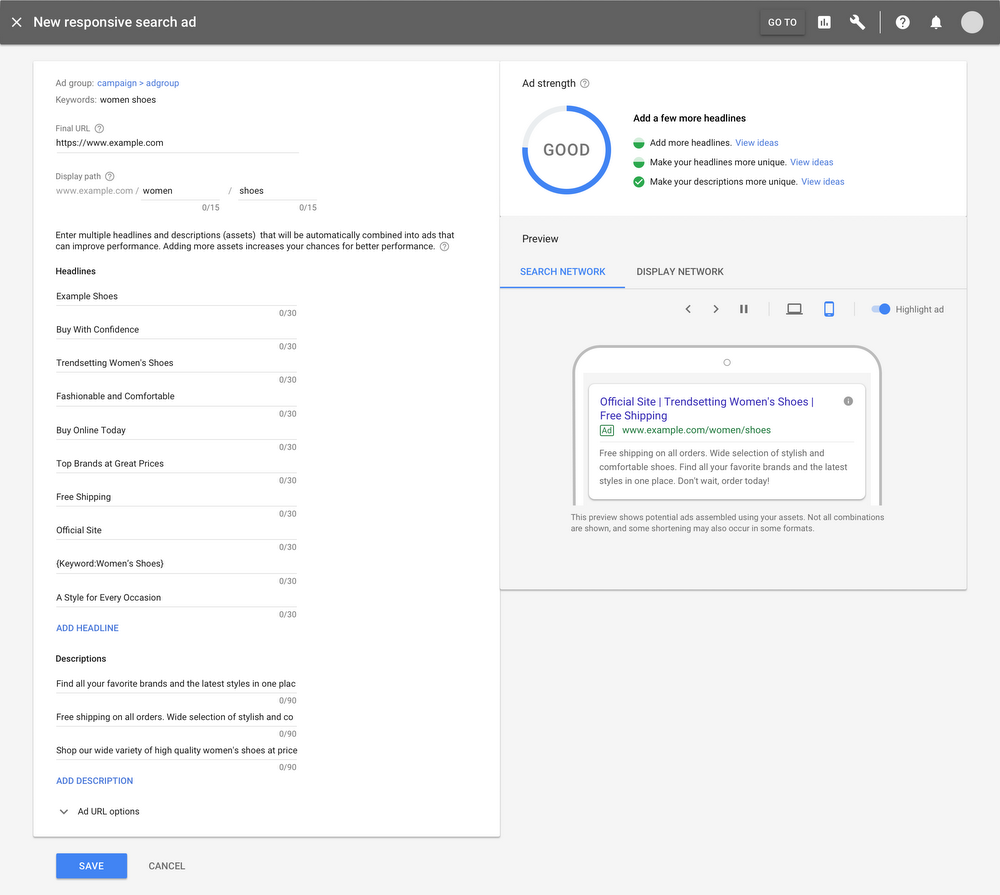 Donald Trump Attacks Google…
Yes, that headline is correct. Donald Trump has issued a warning to tech giant Google, Stating that they are "treading on troubled territory" over a row about perceived bias. Trump has accused Google of rigging the search results for the phrase "Trump News". In a tweet, the President accused Google of prioritising negative news stories from what he described as the "national left-wing media". He said most of the stories that appear on the Google results page were negative and that conservative reporting was being "suppressed". Google has denied the claim, saying no political agenda is set. 
Facebook Watch Goes Global
Earlier this week we saw the release of Facebook's latest mobile update making it's 'watch' platform, global.
Google watch initially soft-launched in the US last year to allow people to find and connect with shows and video creators they love and start conversations with friends, other fans and even content creators themselves.
Facebook felt it was time to launch the product globally as over 50 million users in the US were logging on daily and watching at least 1 minute of video content within 'Watch'.
Could this be a contender with YouTube from both a user and a content creator perspective?
Apple Working on AR Glasses?
Apple has acquired a start-up specialising in augmented reality (AR) lenses, which has got the industry speculating about Apple's ambitions in the wearable tech and AR sectors.
The start-up, named Akonia Holographics, has developed almost 200 patents relating to holographic technologies. Bloomberg reported last year that CEO Tim Cook has signalled plans to launch AR glasses as early as 2020.